Hanging chairs are wonderful when you want to relax after a long day and it is a beautiful day outside. All you gotta do is go out to your garden and relax a little. Outdoor hanging chairs are wonderful thing to have rather if you have your own garden or just balcony you can place it there.

Types of outdoor hanging chairs
To be honest your own garden is the best place to have hanging chair. Imagine a sunny day and you can just go outside with a cold glass of water and just swing a little. If you are about to get yourself a swing chair for your outdoors. There are few types you can consider. Those types are:
Hanging basket chair,
Hammock chair.
There are many types of outdoor hanging chairs, in this article you wil be able to find out a little bit more of those types. This might help you choose the right one for you.
Hanging basket chair
Hanging basket chairs are all those hanging chairs which are made out of hard materials, in which you will be able to sit in it and just lean in like in normal kind of chair. Hanging basker chairs has its types:
wicker swing chair/rattan hanging chair,
patio hanging chair out of wood,
hanging egg chair.
All of those types has got some adventages and disadvantages which depends on this who is getting it and what are his needs.
Wricker hanging chair/Rattan hanging chair
Wricker hanging chair is very light but still sturdy. It is perefect to be placed on patio because it is very easy to be moved. Those hanging chairs are done out of rattan so they can also be very likley named rattan hanging chairs. Are you wondering if natural rattan hanging chairs are perfect for outdoors then it may not be that good choice. However there is sytetic rattan material just right for the outdoor.
Patio hanging chair out of wood
This hanging chair is perefect for those that are looking for high quality outdoor hanging chairs that are made out of natural material. Those hanging chairs are way higher in their prices so you have to keep that in your mind. This swing chair is one of those luxury outdoor hanging chairs.
Hanging egg chair
Hanging egg chair is also sometimes called a garden hanging chair or egg chair swing. Those hanging chairs became a garden staple. Those hanging chairs are wonderful addition to outdoors.
Egg shaped chair is suspended form and is also supported by frame which is just attached to the seat by chain. However there are other than this tradicional egg chair. Those can have for example freestanding design or have 4 legs or a soild base which won't swing.
The right size of hanging basket chair
Are you wondering what is the right size of hanging basket chair? Well here goes your answer. Hanging basket chair do not fit your body as the hammock does so you have to pay attetntion to the size. It has to be big enough for you to make yourself comfortable in it. If you want to buy online this might not be the best idea because you won't be able to find out if it is gonna fit you well, just go to store and try them out. Perfect size is when you have enough space on your left as on your right so you can make yourself comfortable with some cushions.
Tip: Keep in your mind to also check maximum weight that it can hold so if you will want to be sitting there with someone else it won't cause any harm.
Hammock chair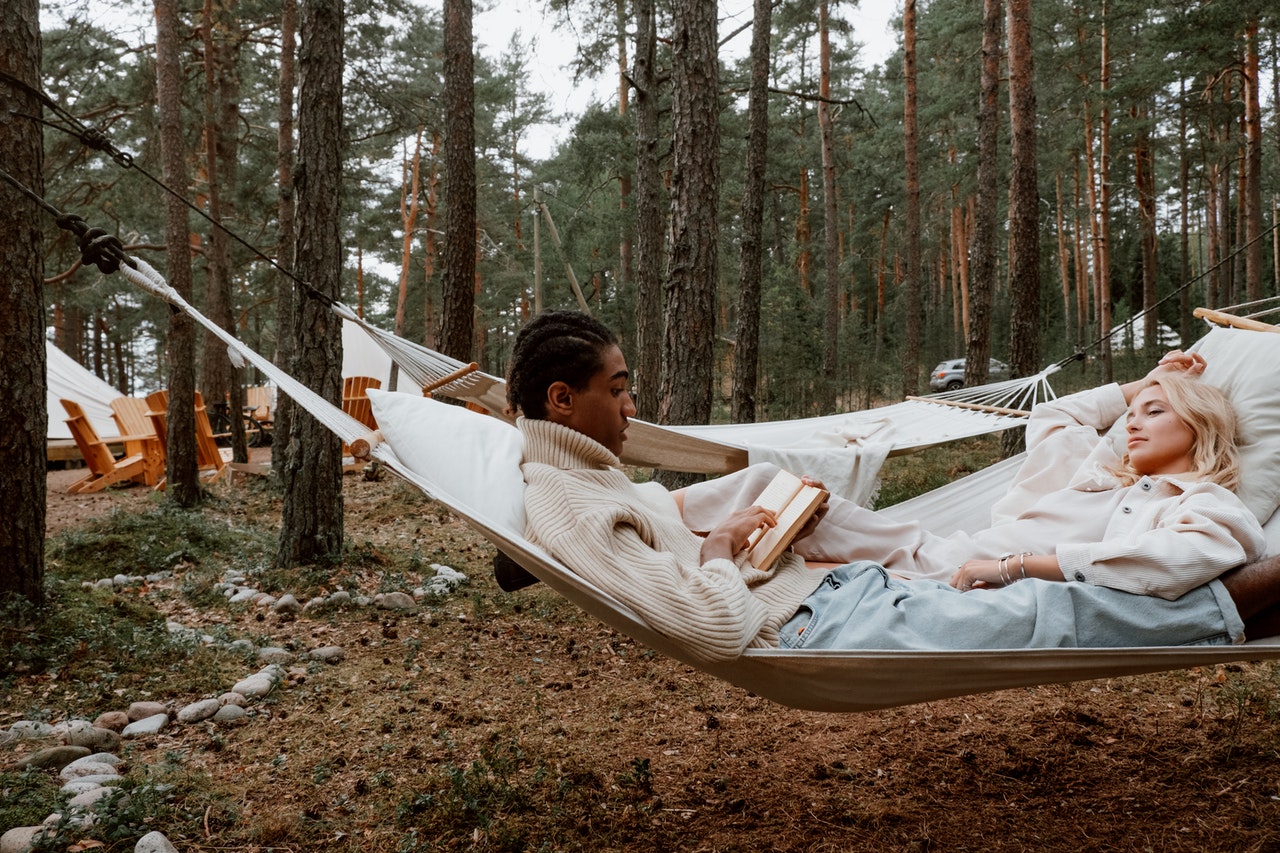 Hammock chairs aren't done out of hard materals like those hanging chairs and they aren't looking like normal tradicional hammocks. Hammock chair is way diffetent from normal hammock with this that it is a little bit smaller and is hang from the top. There are 3 types of hammock chair and here they are:
rope hammock chair,
fabric hammock chair,
macrame hammock chair.
Rope hammock chair
Those hammocks are mostly simple and very affordable . They are perefect ideas for outdoos for summer time. This type of hammock chair you have rope tied and woven. There are few types of rope hammock chair which are:
cotton rope hammock chair,
polyester rope hammock chair,
duracord rope hammock chair.
As you can see there are types of types so you can choose from many that one which is the best for you.
Fabric hammock chair
Fabric hammock swing provides better cushioning than the rope version of hammock chairs which makes them more comfortable. Remember that if you decide on cotton hammock chair you should be careful when it is exposed to sun and rain in fact it should be protected from it.
There are 3 types of fabric hammock chair. Those types are:
textilene,
dyed acrylic,
sunbrela.
Macrame hammock chair
Macrame is very old tradicion that came from the Orient. It can be used to creat many things like bags, belts or some hanging wall decors. But it is also very popular to create hanging macrame hammock chairs. To be honest those types of hammocks are very expensive ones but if you are into crafting you may just make it yourself very easily.
This hammock can add to your outdoor space great romatic mood. You can place it at your front porch or hang it on the tree branch. It is doesn't matter where because it will look wonderful everywhere.
Types of hanging chairs that are durable outdoors
The durability of outdooor hanging chairs in fact is not that simple thing. It is mix of different factors. Those factors are:
first and main factor is weight capacity,
another very important factor is the fabric. Real rattan or cotton when it comes to hammocks isn't really that strong material especial when you compare it to for example to synthetic rattan,
you should also get some informatios about materials which are used for the spreader bars and it also would go well with hanging accessories,
pay attention to UV protection,
check if choosed hammock is for example water resistant.
As you can notice there are many factors that should be considered before you choose the perfect hanging chair for yourself. There is one very important thing you should do before getting new hanging chair and it is to read reviews about this one chair you thinkig of.
Interesting informations
patio swings nowadays are made out of many materials like woods, synthetic wicker, fabric or metal,
there are hanging chairs which are perefect for both, outdoor use as well as for indoor use,
there is also hanging chair with stand and this is very good way when you do not have a place to hang tradicional hanging chair.
Conclusion
As you can see there are many types of hanging chairs so if you want your dreamed hanging chair and you have enough of backyard space just go for it. It all depends on you what right of hanging chair you will want. If you want some pillows on it to have some extra comfort go for it, if you want wicker/rattan hanging chair why not go and get it. Remember that it is your yard and it all depeneds on you what kind of style you prefer to have your furniture in.
Make your outdoor swing chair your favourite place in the house but remember that it has to be sturdy so it will be safe to use. Also remember to choose sturdy type of hanging chair so it will be durable and safe for you.