Are you thinking of organizing ideas? You want to have your home space organized? Well is so here is ideal article for you. You will be able to find many tips on how to save space by adding so extra storage spaces! Keep reading and find something that is gonna be just the right for you.

Prepare the list to save space and time
Yes, that's right prepare the list of rooms that should be taken care of. Remember that organizing our house doesn't have to happen all at the same time. You can go simply room by room with those storage space ideas. You can do that for example this way:
kitchen (kitchen cabinets, drawer space, pantry),
master bedroom (closet, table),
living room (coffee table).
Entryway
It is very importat to have your entryway organized. You can do that with few simple steps. Follow the article to find out.
Use your wall space
If you have free wall space you could instal hooks so each family member will have his/her's place to hang the jacket.
Go for vertical space
It is doesn't matter if you tiny entryway, you can still have there great storage places. Add to your entryway baskets so it will be great shoe storage which will very much help you to organize shoes. You could also place tiny bench for sitting and under the bench you can also place clear shoe boxes.
Kitchen
Kitchen is mostly the heart of each house so we should take care about it the most. Let's make this space way more enjoyable for eveyrone by well organized space.
Drawer space – transform the junk drawer into an everyday drawer
Stop calling your drawer a junk drawer! Start thinking of it as a drawer with important and needed things. Junk drawer is mostly very often stuffed with many things lik:
batteries,
paper clips,
tape,
scissors.
Junk drawer means that there is trash and all usless things. However when we speak of everyday drawer we think of place where all needed things are placed. if you gonna do that you may be preventing this drawer from cramming it.
Kitchen drawer dividers
By adding drawer dividers you can get extra space. Why not maximize the storage space if it is possible and in fact very easy. With help of this drawer dividers you will be able to have everything in place. Those dividers are also great because you are able to fit more things in each drawer. The reason why you are able to do it is because the dividers make it easier to stack things vertically.
Bottles storage space
If yoy are annoyed by bottles falling over all the time, here is an idea for you. Use a wine rack to place your bottles at one place. Just place it in your pantry and enjoy your extra storage spaces.
Pantry door/cabinet door
You can have some extra storage place by adding some of shelves or racks that can hold smaller items like spices to the pantry door for example.
Living room
Living room organization is very important, if you ask why the answer is, because it is easier to relax in tidy living room than in messy one.
Board games
Store your board games wich are used by you and your kids the way of titles facing out. This way will let you or your children find it fast. It will also prevent from mess happening on daily bases.
Picture hanging kit
Put together a great picture hanging kit. If you are a person that loves hanging picture around but it keeps bothering you when you can't find the tools for it this idea is just for you. All you gotta need for this is little container in which you will be able to place things like for e.g.:
tape measure,
nail less sawtooth picture hangers,
d-rings.
Dining room
Organized dining room will feel even more spacious than it used to be before. It will be woderful looking room to have some dinner parties.
Sideboard
It is very good idea to have sideboard at this room in the house. With it you can hold dishes, table linens and serving pieces you only need seasonally or when you have company.
Floating shelves
Floating shelves may be great idea to use as a storage. You can put on them some baskets which are great way to storage things that you don't want your guests to see.
Bathroom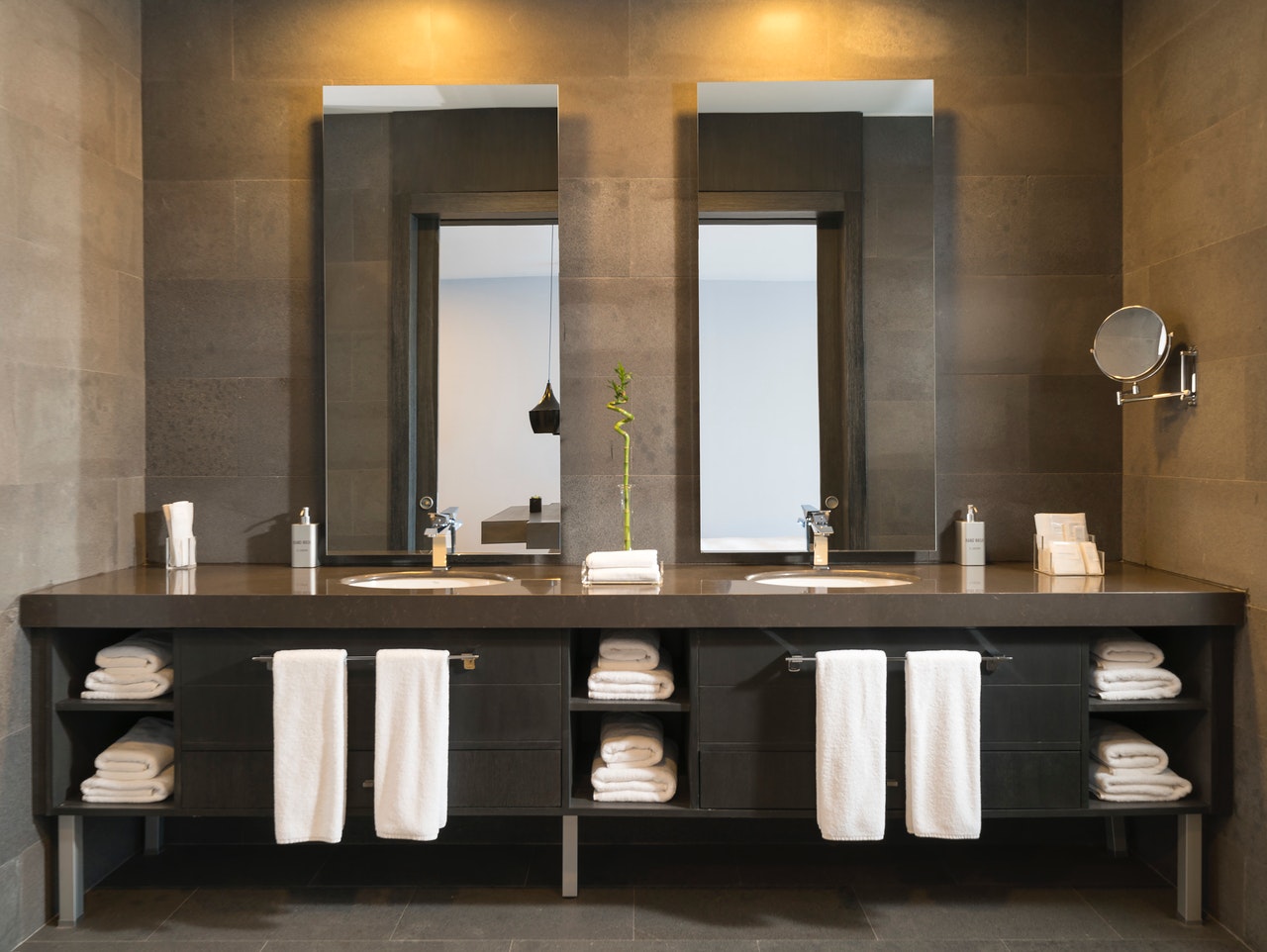 Why not to make your life easier while getting ready in the morning? Here goes some ideas you can use.
Caddy for cleaning supplies
Use caddy for cleaning supplies so you will be able to carry them easily and also will have easy access to them. Stackable containers will work well to maximize vertical space.
Shoe boxes
Use old shoe boxes and gift wrap to add a little bit of an interesting look and create organizer box for your bathroom supplies. All you gotta do is to add a printed lable to wrapped boxes and it is done.
Create sturdier storage
Use your linen closet and create sturdier storage. You can do that by making simple wooden covers which will go over wire shelves.
Bedroom
Bedroom should be your own space where you can feel good and relaxed. When it is messy you doesn't feel this way, right? Well you can change that with those organization strategies.
Use the walls
Wall space is great for extra storage. You can use it as a storage by adding hooks or if you prefer wall pockets. Use your free wall space to put the items away and have an easy access to them.
Folding iron desk
Think of this as of an idea which helps you to safe extra space which would be taken by storing it somwhere at the house. This wonderful folding iron desk can simply hide behind a drawer front. Great idea when you are dealing with small spaces.
Maximize space in small closet
Maximize this space with by adding extra shelves, shoe organizers and maybe rails? You will be able to place more of your clothes if you gonna use this lifehack.
Basement/attic/garage
You may didn't think of organizing the storage space. Well it can indeed make your life easier. Just think of being able to park both of your car's in the garage, whouldn't that be just great?
Plastic containers
Use plastic boxes to place many items in them. You could use colorful containers so the items will not be able to be seen. This can make your garage space look pretty and colorful.
Track system
You can use track system to organize large things. This idea helps you to save some floor space which give you extra space to use.
Laundry Room
Here you will be able to find ideas on how to run your laundry routine way more smoothly.
Add cabinets
To maximize the storage space in there you can add cabinets in place where you had your wire shelves. This will also give you a tidy look because you will be able to hide all of the necessities.
Glass jar
Keeping a glass jar in you laundry space is a great idea. You could place there items that you found in the pockets like for e.g. coins.
Play room
Here is the best place for parents. If you are a parent who is dealing with stuffed animals all over the place you might enjoy this part.
Rolling cart
You can use rolling cart to store the art supplies. They are great for tiny spaces and the reason why is, because they can be very easily moved to another place.
Photo book
You could also think of an art projects like organize your child paperwork by doing photo book. This will prevent papers flying around the play room.
Customed tote bags
Use customed tote bags to storage for e.g. sports equipment. With this everything will be in place.
Home office
Here you will be able to find ideas on how to storage your home office supplies. Follow reading to find out.
Open shelves
Use open shelves and add some bin. You will be able to store your office supplies. Those bins will allow you to hide thise unsightly items. Cool, huh?
Desk organizer
Place a organizer on your desk. This will help you keep all of the most important items in the easily accessible place.
Conclusion
After reading this article you are able to organize every room in the house. Try to do that with your family members becaus this may be great time to spend together. There are many ways to create a wonderful extra space at your house so just go for it and try to make them at your house.